Great Choice of affordable food at Any Time
9 years ago
The famous bar Galeón, of nearly three decades, counts now with a little sibling: Galeón Rúa Nova. Open since nearly a year ago at the rúa Nova, just in the middle of the old town, this new restaurant offers the typical quality and service in an environment with no equal.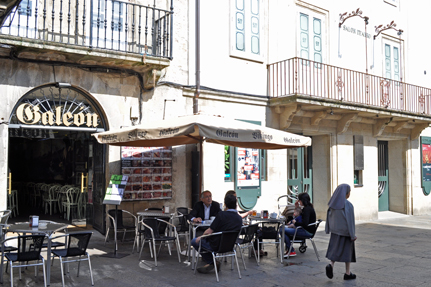 The Galeón is a good option for every taste and pocket
A new bar-restaurant Galeón opened its doors a year ago at 36, Rúa Nova, just beside the Salón Teatro. Placed in one of the most beautiful buildings in the street and with a cared decoration, this restaurant offers the typical quality at affordable prices with a great choice of meals, including mixed dishes, sandwiches, salads, pasta, hamburgers or hot dogs among others.
There are also abundant portions which have made the Galeón a referent place in Santiago and which allow to enjoy the best Galician products, such as octopus, typical pork loin or pork ear, at very affordable prices. Other daily meats and fishes complete the variety of this restaurant menu which would please anybody's taste. For this reason, this is a perfect place for group or enterprise dinners, and for this purpose, the restaurant counts on an inner dining-room.
For Santiago and its surroundings, the place offers also a delivery service which allows enjoying these specialities at home. Delivery service hours are from 12.00 to 16.00 and from 20.00 to 24.00 hours.
Kitchen Open from 12.00 to 1.30 Hours
The same as the Galeón at the street Alfredo Brañas, the food service of the one at Rúa Nova has the same opening hours as the bar, this means from 12 a.m. to 1.30 a.m.
This way you can enjoy a good meal or a freshly prepared sandwich at any time of the day, even at night. This is a not very common possibility out of the common lunch and dinner hours.
Finally in its service catalogue, the Galeón Rúa Nova opens every week day.