A Curtidoría: Mediterranean Cuisine in the Heart of Compostela
9 years ago
A Curtidoría is located in the very heart of the old city centre, at Conga Street. The restaurant is located in an old tannery –curtidoría– and it has preserved all its charm.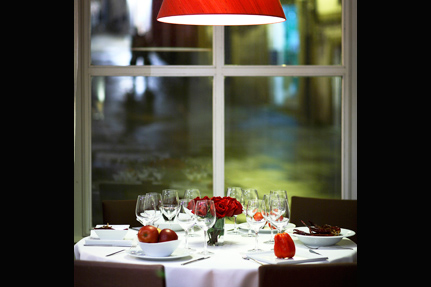 A Curtidoría is placed in a house from the XIX century at Conga Street
In 2004, an old tannery placed in a house from the XIX century at Conga Street gave way to a beautiful restaurant with a really different gastronomic offer. It is framed by fourteen big windows with views to three different streets and just a few steps from the Cathedral. The taste shown in the decoration is also present in the menu, the best Galician products together with the most delicious Mediterranean cuisine. For those who need more intimacy, A Curtidoría has a private saloon which revives Art Deco.
The restaurant closes on Sunday during July and August, but its door is open from 11:30 for the rest of the week as it also works as a café with a wide variety of coffees, teas, and cocktails.
Rice, the Main Character
Its cuisine flees from elitism and gives the opportunity of enjoying salads, meats, fishes, and rice at an affordable price but always with a careful elaboration. Rice is the specialty of the house and it is presented in many ways, from traditional rice such as Abanda and Risotto to rice with octopus, wild mushrooms, or Iberian ham, with cod and spinach, with scarlet shrimps, etc. All of them can be accompanied by some wine of the restaurant's wide winery which includes nearly all designation of origin wines.
New technologies are the way this young team uses to inform their clients about the set menu or about restaurant's novelties through Facebook or by registration at their website to receive daily emails informing about the set menu, or last news about conferences, presentations, etc. It is also possible to take a look to the menu, dishes sheets and even send suggestions and opinions.
Just a few weeks ago, the team of A Curtidoría opened La cantina de la Curtiduría at 28 Doutor Teixeiro Street. There is also possible to enjoy its excellent cuisine as well as elaborated breakfast and a wide selection of pinchos. A great offer in a wonderful ambience with the same client handling as in A Curtidoría. A safe bet by the team managed by Borja Portals.