Restaurante Camilo: the Best Galician Fish, Shellfish, and Meat
9 years ago
The pilgrim or tourist who arrive in Compostela eager to taste some of the products of its famous gastronomy should not miss this restaurant, located in A Raiña Street, a hundred metres away from the Cathedral, in the neuralgic centre of the old part of the city.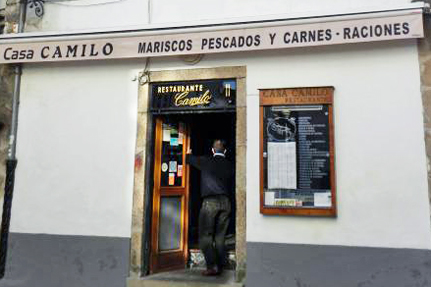 Restaurante Camilo opened its door in 1942
The Restaurante Camilo is located in 24 A Raiña Street, it is a Compostela's well-known restaurant which was opened in 1942 by Camilo Alberte, who headed it up to 1987 when it was bought by the brothers José and Inocencio Pereira Aldrey.
They have managed to keep the tradition and to include the restaurant in the main catering and tourism guides of the city to allow visitors to enjoy delicious recipes which are well known by the citizens of Compostela since many years ago. Traditional specialties with the best raw materials; more than a dozen types of fish, a wide list of Galician shellfish, and a wide selection of meats, from fore rib or tenderloin to T-bone steak, and the most demanded: traditional stewed lamb with potatoes, it can be tasted all days without prior booking.
And when cold arrives not many are able avoid the temptation of tasting the main winter dishes: callos, cocido, or lacón. They also offer small portions and tapas for those who seek for something more informal. The same quality and their best recipes served in small portions to share and taste several dishes.
The Restaurante Camilo has a dining room for 45 people and three private rooms; the biggest has room for more than 20 people and the others for four to eight people. In summer it has a comfortable terrace to taste its wide offer of dishes and excellent wines.