Don Gaiferos, from Saint-James Romance to Renowned Restaurant
9 years ago
At the rúa Nova, just beside the Teatro Principal –Main Theatre–, we can find the restaurant Don Gaiferos, which name takes us to the 12th century. With an impressive architecture, this establishment opened its doors in the 1975; since then, it has become a reference for Compostela's catering business.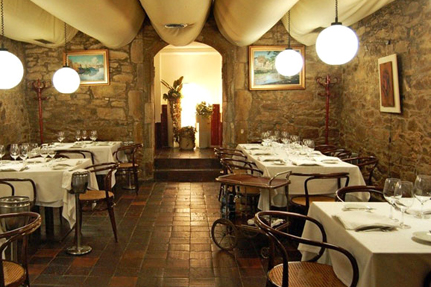 Gaiferos de Mormaltán died in the catedral in 1137 after making the pilgrimage to Saint-James
The restaurant Don Gaiferos will be soon celebrating its 40 anniversary, yet its cousine is constantly evolving keeping a classic and traditional style. Its secret lies in the proper mixture of good raw materials, a precise elaboration and a cared service, elements which have gained loyal customers who cannot deny any of the seasonal dishes of the place.
The house's menu, offered in summer at the tight price of 20 euro, counts on two first courses, a main course and assorted desserts. This price includes drinks and bread and can be appreciated every day whether for lunch or dinner –except Sunday evenings and Mondays, when it is the restaurant resting day.
Among its dishes par excellence we find Cantabrian anchovies, Galician broth, Galician style octopus and the best seasonal fishes and seafood, as Norwegian lobsters, cockles, sole, hake, monkfish or also some delicious scallops with rice à la marinière. The menu is not worse for meat lovers, it counts on cordon bleu or entrecôte Marchand, and also Holstain escalope, veal sirloin, Stroganoff or steak tartare or au poivre.
As for the desserts, it counts on chocolate bomb, chocolate or coffee crème brûlée, coffee crème caramel, fresh cheese with cranberries, tocinillo de cielo –sweet made from egg yolk and sugar–, and of course almond cake. Everything is accompanied by a wide variety of wines.
Gaiferos de Mormaltán
William X, Duke of Aquitaine, made the pilgrimage to Compostela in 1137 under the cavalier name of Gaiferos de Mormaltán, probably due to some guilty feeling. He died having finished his pilgrimage while he was in the Cathedral. This fact was recorded and idealized by some troubadour or medieval minstrel who created one of the most beautiful romances about Saint-James theme in Galician language: the Romance of Don Gaiferos de Mormaltán.
Written in Galician, it talks about the legend together with the harshness that every pilgrim doing the Way has to face and overcome with great difficulty and sacrifice, coming across great distances through fields and paths. This romance was sung by minstrels and blind people for lots of years at the doors of the cathedral and it is a referent in Saint-James' sphere.