Hesperia Peregrino: Jubilee Denomination and Long Trajectory
9 years ago
The hotel Hesperia Peregrino has an especial energy due to its link to jubilee tradition and its wide experience.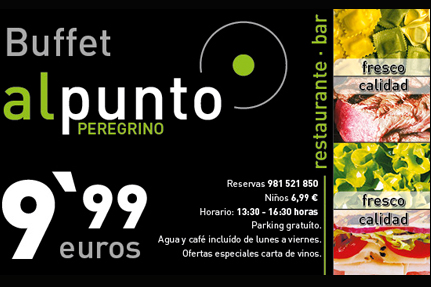 The buffet Al Punto and its garden and pool are the main lures of this hotel
Despite it is located in the new part of the city –Avenida Rosalía de Castro­–­ it has a strategic location for a complete visit to Santiago, from the old part of the city to the University campus or the newer and most modern neighborhoods of Compostela.
The past and the present are linked in this hotel. It is easy to access to by car or by train –the train station is less than one kilometer away and it has its own car park-. The hotel has 150 bedrooms, standard and suites with all the amenities the client may need in a four star hotel
Room service, café, 24 hours reception, press, ADSL Internet access, business centre, meeting room, laundry, and a long etcetera of services are available for clients, we can highlight among them, especially at this time of year, the outdoor pool, the solarium, and a pleasant garden.
Restaurant and Buffet Al Punto
One of the main lures of the hotel is its restaurant Al Punto with a menu including the best local cuisine and the most elaborated international recipes. For those who want something more informal there is the buffet Al Punto with a wide variety of delicious fresh salads, vegetables, fish, meat, and steamed vegetables in addition to the best Spanish cuisine desserts menu. The buffet is daily open from 13:30 to 16:30 and its price is €9.99 –€6.99 for kids aged 2-12 years– . It also includes water and coffee from Monday to Friday, special offers on wines, and free car park.
All these together with the advantage of being part of a big chain, Hoteles Hesperia, which offers a limousine service, an H-Express Check-Out to avoid reception, and the service Hesperia online boarding that allows for flight check-in from the Hotel.
You can also make an online reservation and enjoy several advantages as the best available price without booking fees and a flexible cancellation policy. If you are thinking in visiting Santiago please feel free to visit our Website or email us at hotel@hesperia-peregrino.com.