Another Way of Visiting Santiago
9 years ago
Visiting Santiago does not have anything to do with the recession. Accommodation options in the city are quite varied and suitable for any budget and taste. These possibilities include going camping, for what the best option is the campsite As Cancelas. Placed in the city, just two kilometres away from Santiago's cathedral, yet in a natural, quiet and cosy environment, we can find the campsite As Cancelas, a great deal to enjoy your visit to Compostela.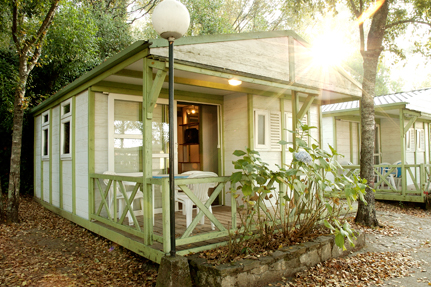 As Cancelas is an urban campsite placed two kilometres away from the cathedral
Located in a hillside with wonderful sights to the city, the facilities count on a spacious, comfortable and safe parking, a bus line to the city every 15 minutes and the natural environment provides the necessary rest after the visits to the city.
It also counts on swimming pool, children area, hot water showers, medical service, wi-fi and sport area, the facilities also include bungalows for four and five people and full-equipped with hot water, kitchenware, linen, towels, TV etc.
Its affordable prices and the advantages offered by this sort of accommodation make this campsite a great choice when spending some nights at Santiago, as its regular customers already know. Many of these customers mention the restaurant as one of the attractions of the place.
The restaurant is open to anyone and not only to the guests of the campsite, as the restaurant As Cancelas is one of the favourite places where Compostela's citizens enjoy the best Galician gastronomy. One more reason to take into account when choosing an establishment placed in the area of As Cancelas, Rúa 25 de Xullo, 35, Santiago.