Sixteen years of Dezaseis
9 years ago
O Dezaseis is, without doubt, one of the main benchmarks in Compostela's catering services. It is located in the emblematic street San Pedro, in the very heart of St James Way. O Dezaseis manages to turn all its clients into friends, and its meals are a pleasure available to anyone, to all those going down the several hundred-year-old steps of this beautiful restaurant.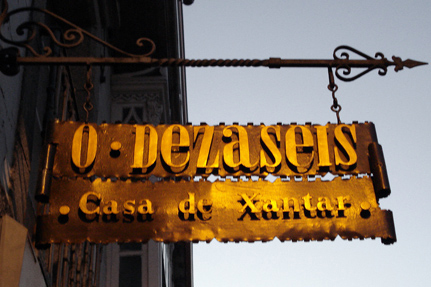 A place where eating means something more than feeding oneself
Its name, Casa de Xantar –house of meals–, leaves no doubt; we are in a place where eating means something more than feeding oneself, than enjoying a great dish; it means the return to traditional meals, slowly cooked with friendliness.
It is a restaurant where those eating as well as those cooking and serving enjoy themselves. This is why one of its greatest achievements is to turn occasional clients into followers and these into friends, a formula which has been adding devotees for sixteen years and which still gives lots of satisfactions to those shearing this emblematic restaurant.
A lot of friends of Avelino, Suso, and Gonzalo have recorded a limited edition album on the occasion of this symbolic anniversary. As it could not be otherwise, 16 representative tracks of Galician folk were chosen. X. M. Budiño, Uxía, Malvela, Espido... and many other friends have participated in this album which commemorates a long trajectory full of illusions and success.
Twelve years of grilled octopus
This dish was created by Rafa Riveiro in 2000, it has not as much years as the restaurant but since its creation it has been continuously served in O Dezaseis. It still is the main dish of the best gastronomic Galician tradition, now it is cooked by Gonzalo Lobato and citizens of Compostella as well as tourists and pilgrims enjoy it.
The fame of O Dezaseis climbed the steps which lead to a stable just nearly two decades ago and it has spread throughout all corners of the city of the Apostle. Taxi drivers, receptionists, and citizens of Compostela recommend this place where it is sometimes necessary to make a reservation to warrant a meal.
It is open from Monday to Saturday, from 14:00 to 16:00 and from 20:30 to 24:00. In addition to its famous grilled octopus it offers a great variety of dishes and the main character is Galician product but its preparation leaves room for imagination and experimentation to provide customers with a traditional but different meal. It also offers a menu for the day where you can choose between two first and two second courses, drink, dessert, and coffee.
Jus a few miss the opportunity to enjoy the after dinner excellent Galician liquors offered by the restaurant which allow clients to increase that moment of pleasure. .
If you already know it do not wait to enjoy this pleasant dining room once again. And if you do not know it yet set sail to San Pedro Street. It is number sixteen, you cannot miss it.