Pedras de Santiago, the Best Memory of a Thousand-Year-Old City
9 years ago
Handicraft chocolates by Sancosa have become one more symbol of Compostela. Each year, more and more tourists decide to buy Pedras de Santiago as a memory of their visit to the city of the Apostle.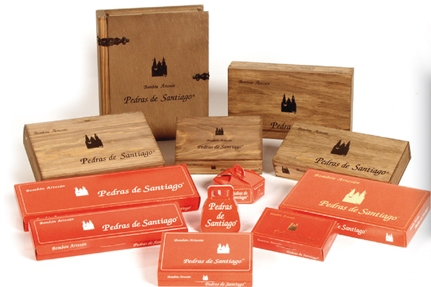 Milk chocolate and the best selection of whole almonds are the basis of these handicraft chocolates made by Sancosa since more than two decades ago. The result of this handiwork are irregular chocolates with creamy chocolate and crusty almonds which are, event though some have tried to, inimitable due to the raw material and the meticulous processing.
The Pedras de Santiago were born 'casually' as their author, Emilio Santasmarinas, admits and began to be sold in Jun 1992. Throughout this period they have become a symbol of the city and one of the most demanded products by tourist arriving in Compostela. They have also consolidated among neighbours who often choose the Piedras de Santiago as a gift or delicatessen for themselves or to show off when giving them.
The success was such that the patisserie La Perla, owned by Emilio Santasmarinas, has become a benchmark of Compostela's confectionery. We can highlight its Tarta de Santiago (it has been the first one in obtaining the Protected Designation of Origin) and its Tronco Xacobeo, in addition to a large variety of handicraft chocolates such as: Pedras de Hércules –made with dark chocolate-, Piedras de Covadonga –with toffee flavour-, Perlas de Santiago –made with white chocolate-, and the Caprichos del Santo, crusty almond with broken almonds, brown sugar, and egg whites. A successful delicatessen.
And for those who do not live in or do not often visit Santiago, the Pedras are sold in the best patisseries and specialized shops as the El Corte Inglés' Boutique del Gourmet and some Audasa shops.
Because, as it is rightly said by its slogan, at this bitter time 'nothing better than eating our Piedras to sweeten life'.