Compostela's Tourist Sector Saved by St. James Way
9 years ago
Despite economic difficulties and pessimist tourist sector previsions, there is a place for hope due to the figures of the first months of the year. There are less overnight stays and less expenditure but figures show a tourist and pilgrims growth with regard to 2011.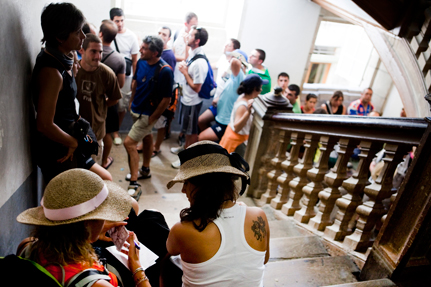 Pilgrims waiting to seal their compostelana
The Pilgrims' Office of the St. James Cathedral reports that this April 599 more pilgrims than last year's same period sealed their compostelana; in May, 1.933 more pilgrims than the previous year and in the first semester 67.437 pilgrims sealed their credentials, a 6% more than in 2011, which means the second best figures since the record in Xacobeo 2010. If the situation remains like this, the year will be closed with another historical score. These figures mean a relief for the difficult economic situation of the tourism sector which involves an important decrease of both overnight stays and average expenditure.
This means that despite the decrease of a 0.58% in overnight stays in hotels with regard to the previous year, the stays in inns increased a 6.97% in the same period. The Tourism general Secretariat reported that Galicia registered 497.066 tourists during the first semester, a 1% more than in 2011 and a 3.4% more excursionists thus there is place for optimism. People come to Galicia but their way of travelling has changed due to the economic situation.
In addition, despite this difficult situation, the Hostal dos Reis Católicos registered last May holidays an average occupancy of a 87%, keeping it as the Galician and national network of Paradores tourism symbol, confirming the jubilee importance of Santiago.
This is due to the increase of foreign pilgrims, many of them even coming from outside the EU. In accordance to the data provided by the Way's tourism information point, most of the international pilgrims come from the United States, which have a grater purchasing power, followed by those coming from France, Holland, or Germany. Those from inside Spain come from Madrid, Catalonia, Andalusia, or the Basque Country.