San Francisco Hotel Monumento, an Excellent Choice
9 years ago
The clients of the bookings website Booking have given a 9.2 to this hotel which becomes one of the best valued in Spain. This XVIII century hotel is located only meters away from the Cathedral thus your stay there will be a unique experience.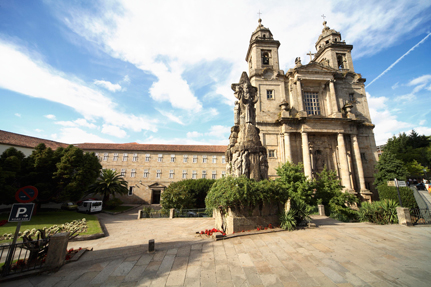 This spectacular hotel is located just 100 meters away from the Cathedral
The Hotel Monumento San Francisco in Santiago opened its doors just a decade ago after a complete reconstruction of the XVIII century building. It has kept its convent character as well as some original elements from the XIII century building such as the archs of the auditorium Charles V, so called because this king celebrated a Castile Court in 1520 there.
One of the most valued Hotels in Spain is located in this environment. In the evaluation made by Booking, clients have given this hotel a 9.2 over 10 with more than 800 comments, making the San Francisco Hotel Monumento one of the most valued hotels in Spain. In fact, among all those hotels passing the 9 in Spain, San Francisco is the second with more comments behind only the hotel Monjas del Carmen in Granada with nearly 1.200 comments.
Clients have mainly highlighted: the location, the staff's kindness and professionalism, the rehabilitation of the convent, the comfort, the peace, and the charming. This good news joins the one given by Trivago, which declared it to be the fifth best hotel for weddings in Spain. No doubt the building itself and its environment, declared of Cultural Interest by the UNESCO, make this hotel a unique place to any celebration.
Leisure, Work, and Gastronomy
The hotel has its own church, a big parking, a glazed cloister, an auditorium with all services, a monumental dining room, six meeting rooms, a swimming pool, and even a Holy Land museum. Everything you may need to spend some relaxing days or make a celebration or have a working meeting in Compostela.
The hotel has a complete website where you can find detailed information about some of its services, including its catering service, area to which managers pay particular attention. Some of its products come from its own garden and the one it has in Herbón, place of origin of the famous 'pimientos de Padrón' which were introduced by the monks of the order.
The complete offer, as well as a careful service offered by the Hotel Monumento San Francisco, will make your stay at this place an unforgettable experience.