El Pasaje: an Opportunity all Your Senses Will Enjoy
9 years ago
Placed at the rúa do Franco, close to the Porta Faxeira –mentioned in the Codex Calixtinus as one of the seven doors giving access to the city of Santiago– we can find one of the most valued restaurants in the city: El Pasaje.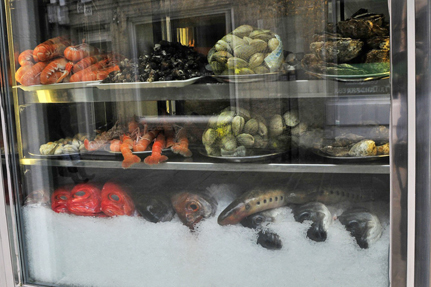 The best Galician products at the rúa do Franco
The restaurant El Pasaje is placed in a building which dates back to the last century in the street through which pilgrims making the Portuguese Way arrive to Santiago. This place was once part of the commercial route established between the river port of Iria –Padrón– and Santiago.
These Sain-James, cosmopolitan and commercial features are kept in the current rúa do Franco and in places as El Paraje, which emblem is made out from hospitality and good service. Here, you can try the best food from the Galician gastronomy in more than 150 different dishes.
Starters such as octopus casserole with mushrooms and clams, squids in black sauce, Rianxo's little sardines, cod salad with sea urchin caviar or homemade Galician pie are some of the specialities, together with the best meats, fishes, seafood or seasonal dishes. Everyday, early in the morning, El Pasaje staff selects the best products at the fish market and then keeps them in the modern cold store of the restaurant in order to preserve their freshness.
The best breams, groupers, sea basses, sea robins, cods, gilthead breams or hakes are in quality competition with seasonal products. Barnacles, Norwegian lobsters, scallops, oysters, razor shells, clams, Galician slipper lobsters, spider crab or lobsters fulfil the restaurant offer for seafood to which we can add products as Iberian pork cheeks, Castilian lamb chops, bull tale, ox and veal sirloin, chops etc. The best products from sea and earth in a very complete menu which would make anybody doubt due to its wide variety.
Furthermore, El Pasaje offers spacious reserved dining-rooms to enjoy personal or special meetings for many of the lovers of seasonal products –lamprey, wild boar, elvers, hare or venison–, who chose this place to enjoy the best offer and the most cared elaboration.
Great Presence in Social Networks
Some of its recipes are available at the blog of its complete and interesting webpage, where you can also find full information about the place and its culinary offer. Also, it counts on great presence in social networks such as Facebook, Twitter, Foursquare or Youtube.