Broa Restaurante to be Enjoyed with the Five Senses
9 years ago
Broa Restaurante, one of the most visited restaurants in Compostela, is located in the charming San Miguel Square and a few steps from the Cathedral.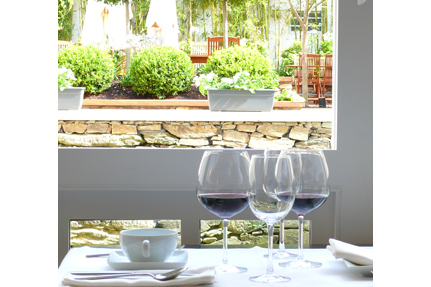 It is located in a XV century building which, in 1912, was added several floors and which nowadays is the Hotel San Miguel dos Agros. Broa Restaurante combines the stone soberness with a modern and cozy interior specially designed for its clients' comfort.
Broa restaurante offers a renewed cuisine which respects traditional elaboration. It offers more than ten different rice types, we can highlight Abanda, rice with scarlet shrimps or with octopus among others as well as a wide variety of meats, fresh fishes, and pasta which complete a menu with appetizing first courses such as the crab cake, or scallops with Iberian ham and Broa crumbs.
A garden in the Heart of the Old City
We can highlight its typical Compostela's balconies and a garden renovated following Feng Shui rules, a great discover for those who enter into this restaurant. Stone and wood combine with plants and shrubs which convert this space into an authentic oasis in the heart of Compostela.
Weather permitting, you can enjoy different events, organize group meals, enjoy the set menu –from Monday to Friday at noon- and even taste some of the many gin and tonic made by a gin expert which will delight the most expert palates. The restaurant has made several gin and tonic preparation courses to offer each client the best gin and tonic to his palate and smell.
You can see all gin brands as well as their elaboration and prices at the Broa Website. There are also available the full menu as well as info about the restaurant, which is open for breakfast, meals, and dinners all days except Tuesday and Sunday nights. A charming restaurant to enjoy an unforgettable moment with your five senses.