St James Way Lovers in the III Pilgrims' World Encounter
9 years ago
Pilgrims and St. James Way lovers went to Seville to celebrate the III Pilgrims' World Encounter at the beginning of the summer. They attended several activities and meetings on issues regarding pilgrimage solidarity aspects.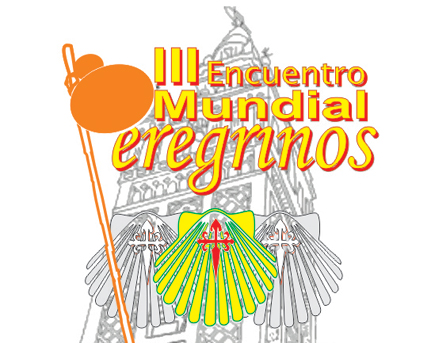 Image to promote the III Pilgrims' World Encounter
This encounter began three years ago in Valencia and will go on until the next Holy Year in 2021. the Xacobeo supports this initiative which main subject has been 'Solidarity and the Way'. This slogan has tried to recognize the work of thousands of people who work helping the sick, people with functional diversity, the poor, those affected by some catastrophe, etc. And who use their time, work, and efforts for them and their causes.
This encounter 'From Valencia 2010 to Santiago 2021" began the 22 June at the Albergue Triana where a big paella was made by the organizer in honour of Valencia. Accreditations were given in the afternoon to all those registered who participated in all activities such as the 'Mini Ways' to visit the most emblematic places of Seville.
But the main event was 'Solidarity in the Way' inaugurated by several authorities of Seville and by the President of Andalusia, José Antonio Griñán. The meeting was opened by Rosa Vázquez, representative of Xacobeo Galicia, once again the main collaborator and support of the Encounter.
Exhibitions of solidarity projects also took place. From the experience of Milagros García with her project 'There is a Way inside you' in the section Social Economy to the solidarity adventure throughout the world 'Solidarity BikeAdventure' by Antonio Henares and his team, or the human experience of a father, Javier Luque and his son with functional diversity who go on pilgrimage with a special tricycle. Also the firemen with their '100km for Cystic Fibrosis' or the imaginative and amazing project 'Solidarity Way through Lorca' by Manuel Lara, altruist athlete. The closing event was a coral mass given by the Cabildo in the Cathedral of Seville with pilgrims blessing.
The organization of this Pilgrims' World Encounter has highlighted it as a 'little idea' becoming 'something big' and it hopes that a lot of people still attend the encounters to exchange feelings and memories, to learn of each other and to know the 'beautiful pilgrimage lands'.